Stump Grinding Specialists
If you have recently used a tree cutting service on your property, you may be left with a tree stump. Whilst some people choose to leave the stump in the ground, there are many advantages for tree stump removal, including:
Protecting your home from tree roots
Improving the aesthetics of your property
Clearing the area for a landscaping project
Preventing the spread of disease and pests
Keeping your property hazard free
Whether you are looking to improve the aesthetics of your home or need commercial landscaping, it is essential to consult an expert before taking any action.
If you need a local stump removal company, look no further than N J Pacey. With over 30 years of experience, our team of arboricultural specialists can perform the necessary safety checks before performing any work.
Each team member is fully trained in using specialist stump grinding equipment and will complete the task quickly and cleanly.
Contact us today our expert advice and a free, no-obligation quote.
Why

Choose N J Pacey?

Due to the heavy and difficult nature of stumps and to ensure the removal is completed safely and efficiently, the right specialist equipment must be used - you want to make sure there is minimal ground disturbance, leaving you with a clean patch where the stump used to sit.

Our team of fully insured arborists have extensive training handling LOLER regulated, stump grinding equipment. In fact, we are even fully qualified to undertake our own thorough inspections of arboricultural equipment.

We work across Peterborough, Cambridgeshire, Stamford, Rutland, Huntingdon, Leicestershire and Norfolk.

If you are in need of our expert advice, contact us today. No job is too big or too small!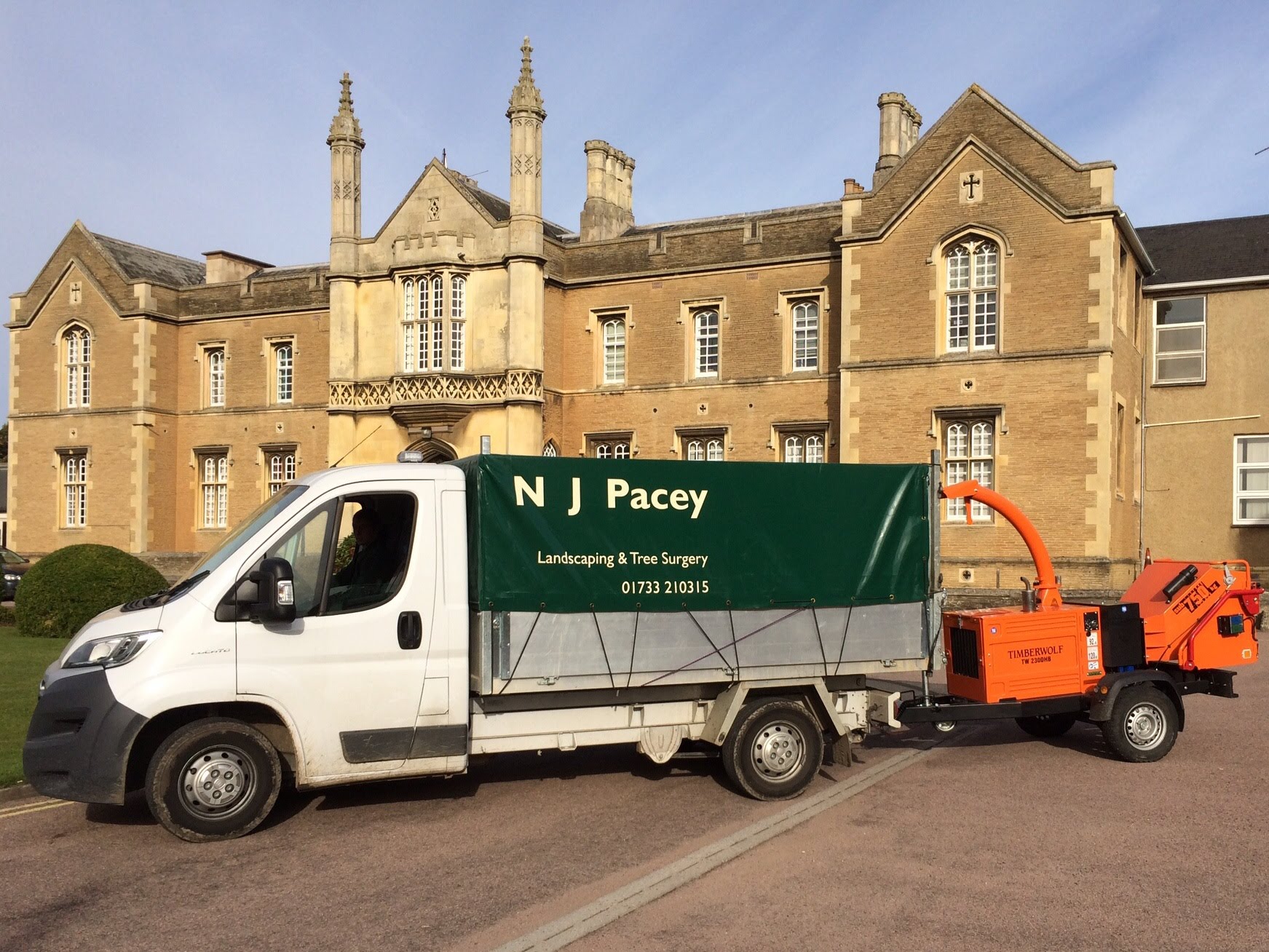 Our

Accreditations

Over our 30 years of service, we have accumulated several accreditations and awards. We strive to give the best possible service to both our domestic and commercial customers, leading us to achieve our strong industry reputation and local respect. Take a look at our awards below and get in touch today.
What

Our Customers Say

5

out of

5

based on

10

reviews.

Overall rating:
Highly Recommended
★★★★★
"
The team at N J Pacey Landscaping are experienced, intelligent and very human. They are good natured company of grafters, who roll up their sleeves and get on with the job in good humour, in all weathers, with great skill. Highly recommended and genuinely impressed.
"
Fabulous Service
★★★★★
"
Fabulous service always on time and great ideas for improving and maintaining the garden would highly recommend N J Pacey Landscaping to anyone.
"
Company to Trust
★★★★★
"
The staff are efficient, friendly and always on time. I would recommend them to anyone knowing they are a company to trust.
"